Since 1947, the Lancaster name has been synonymous with quality, safety and on-time performance in all aspects of heavy highway construction and commercial and industrial site work in Central and Northern New York.  No matter the size or complexity of your project, Lancaster has the people, equipment, materials and expertise to get the job done.
3rd Generation Family Owned
experienced, integrity, valued partner
Exceptional Service
that exceeds expectations
About Lancaster Development
An award-winning, $80-million heavy, highway construction firm based in Richmondville, NY, Lancaster Development is recognized for superb quality, an outstanding safety record, design-build capabilities and innovative value engineering that save clients time and money.
Formed in 1947, Lancaster is a third-generation family business that combines small-business sensibilities and responsiveness with the resources and capabilities of one of the largest highway contractors in Upstate New York. We have the equipment, manpower and know-how to handle major projects across Upstate New York and northern Pennsylvania – while still giving smaller clients and projects the detailed attention they deserve.
Industry Awards for Excellence
Lancaster has earned numerous honors and awards for quality and safety over the years. Among our most prestigious honors are:
Most Valuable Partner Award
Honored By: Orange County Partnership, Office of Economic Development
Project: Exceptional performance in the construction of the I-84 Exit 5A and the Route 747 – International Boulevard connection to Stewart International Airport
Bridge Industry Achievement Award
Honored By: Eastern New York Chapter, Association for Bridge Construction and Design
Project: NYS Route 167 Bridge Replacement, Little Falls, NY
Excellence in Partnering Award for Informal Partnering
Honored By: Associated General Contractors, New York State Chapter
Project: Innovative work on repaving I-90 in Albany, which reduced the construction schedule by more than a year, from 18 months to 4 months
Gold Award: Excellence in Concrete Design – Installation
Honored By: American Concrete Institute – Central New York Chapter
Project: Reconstruction of Thruway Exit 34A – the Collamer Interchange
Excellence in Partnering Award for Informal Partnering
Honored By: Associated General Contractors, New York State Chapter
Project: Pavement and ramp reconstruction work at Thruway Exit 34A – the Collamer Interchange
"Perfect" Bonus Incentive
Honored By: New York State Department of Transportation
Project: Consistently excellent quality for all segments of I-890 repaving project in Schenectady
Quality Hot Mix Asphalt Paving Award Contractor Placed Project (1998)

Honored By: New York State Asphalt Pavement Association, Inc.
Project: NYS Route 17 Towns of Hancock & Colchester
Excellence in Partnering Award for Formal Partnering – First Place Winner (1997)
Honored By: Associated General Contractors, New York State Chapter
Project: Reconstruction of I-81, Exit 4-6, Binghamton, NY
  Community
Lancaster has strong roots in the community, and generously contributes to a number of charitable organizations, both with financial and volunteer support.
Among the organizations Lancaster supports are:
FAM "Fund" Run/Walk (annual sponsor)

Literacy Volunteers of Schoharie County

Richmondville Volunteer Fire Department

Schoharie County ARC

Li'l Dawgs Football

Catskill Area Hospice
Cystic Fibrosis
Landis Arboretum
Marathon for a Better Life
In the News
BOCES Links a Pair of High School Seniors to Construction Careers with Major Area Contractor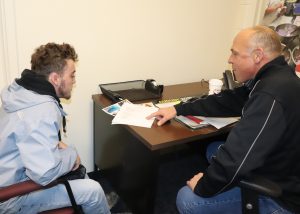 A pair of Capital Region BOCES high school students have their foot in a door of a major construction company thanks to the workforce development partnerships BOCES maintains with area businesses.
Aeden O'Connor and Justin Fancher, both of whom attend the Commercial Construction/Heavy Equipment program at the Schoharie campus from Cobleskill-Richmondville High School, have been hired for work-based learning at Lancaster Development, a major highway contractor.
Read More here: https://capitalregionchamber.com/news/boces-links-a-pair-of-high-school-seniors-to-construction-careers-with-major-area-contractor/
The firm is also a key contributor to a scholarship fund for state residents studying in the construction and engineering fields, established by the state chapter of the Associated General Contractors.
Memberships & Affiliations
Lancaster Development is proud to be affiliated with the following organizations: